VIRTUAL HOLIDAY GIFT SHOP
Are you still uncertain what to give a special person in your life? Problem solved!  Below are exceptional companies that offer unique, high-quality products.  I've had the pleasure of working with each of these businesses and seeing their merchandise first-hand. They have been vendors at my past Great Gardens and Landscaping Symposiums, attended by hundreds from across the country. Not only was I personally impressed with their merchandise, but these vendors all received praise-filled feedback from symposium participants.  Superior and unusual gift ideas are just a click away!
Amalia Tagaris Encaustic Collage Art I had the pleasure of designing a garden for Amalia this past summer AND purchasing one of her stunning encaustic collage art pieces. Her newest series of encaustic collage artworks is inspired by her life-long travels along the alluring coastlines of Greece. Each scene is composed by arranging many layers of torn Japanese papers which have been coated with molten encaustic (pigmented beeswax), and are finally set in place with a heated iron.  Varying hues of blues and oranges are used to depict Amalia's interpretation of the sea, mountains and sky of the Mediterranean.  To learn more about her remarkable work for sale, visit  www.amaliatagaris.com   Amalia's art will be showcased at River Tree Arts in Kennebunk until December 31st.
Bent and Bree – Sustainable Cork Handbags and Accessories.  BENT&BREE- A sustainable brand of luxury bags, jewelry and home accessories, crafted from cork. The company's founder, Helena Silva, focused on cork, one of the most sustainable materials in the world. Extracted from the bark of the Cork Oak, it is the only tree that regenerates itself after each harvest, doing no harm to the tree. Helena's collection of handbags, backpacks, and totes is astonishing! As are the eco-friendly selections of bracelets, earrings and necklaces.  Use code: Holiday22 at checkout to receive 20% Off bentandbree.com
Bottle Branch Botanical Photography and Papergoods  Elizabeth Pyle is as fascinating as her botanical artwork. She started out as a botanist doing research in a various locations including the Bolivian Amazon, Brazil and northern Mannitoba, Canada. Then she co-wrote a blog Manners for Modern Mothers for three years, before launching her business, Bottle Branch (named after the stream that ran behind her childhood home).  Her floral and botanical art is breathtaking. You can purchase her delightful pieces as individual cards or card sets; birch trays and coasters, note pads & sticker notes,  botanical hand bags, gift wrap and more. In addition to her web site, her work may be found at retailers across the country.
Coldbrooke Pottery  Abby Fasanella is a gifted artist who produces hand thrown containers for gardening connoisseurs in her New Hampshire studio.  Her stunning terracotta and charcoal clay pots come in different colors, sizes and shapes plus include decorative details. Abby's work is inspired by the forms created in British potteries for centuries. Prices range from $18 to $36. She also creates mini terrariums, flower frogs, plant markers and one of a kind pieces that are priced individually base on the complexity of the design.
Fish in the Garden  Maine artist, Tyson M. Weiss, has made a name for himself nationwide. His marvelous 'swimming fish' cannot help but instill childlike wonder as you see them 'moving' through a perennial garden or landscape. One of my favorite mediums are wispy, sweeping grasses such as Nassella tenuissima or Carex pensylvanica (both native). These sculptures, created from stainless steel or ceramic, come in all sizes and colors AND they can be left out outside in winter (good news for us in colder zones!). Their tails are formed sweeping from left or right; placing several in a line provides the unique dynamic sensation of motion. Check out the Popular Sets page for examples.
Opio Home  Opio Home, based in Stowe, Vermont, offers an exceptional collection of country French  table linens that are easy care and stain resistant: tablecloths, runners, napkins, placemats, tea cloths and much more.   I purchased the Cigale striped coated cotton tablecloth (stain and fade resistant) to use for book signings.  The brightly colored Jacquard tablecloths are 100% cotton and so very soft to the touch, yet thanks to Teflon™ being incorporated into the thread, spills like red wine will just bead up! Just blot dry and machine wash.  Opio Home also offers woven tapestry pillows and serving baskets. Free standard shipping on all domestic orders over $75.  10% off entire order placed Dec 1-24 with coupon code PY2022.  Good for one-time purchase.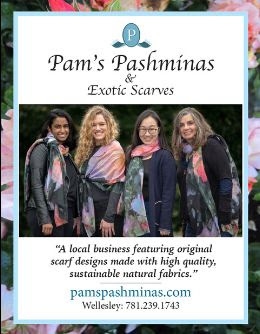 Pam's Pashminas & Exotic Scarves  These dazzling pashminas (made from luxurious pashmina wool from the underbelly of Tibetan goats) and scarves are unequaled in their beauty AND their stories.  Pam Kubbins sources her stunning pieces from all over the world.  She looks for fabrics that are sustainably produced, environmentally safe and only made from natural fiber, resulting in scarves that last many years. Prices range from $25 to $189; and gift cards are always popular! Pam's story about the roads she travels and the people she meets is as fascinating as her scarves.
Sunny Window  Sunny Window offers the finest French lavender and lavender products, handmade lavender pillows & sachets, natural bath & body care, aromatherapy and more. Owner Julie makes all the pillows & sachets herself (using her grandmother's sewing machine) and carefully curates a delightful selection of lavender products from Provence – from bouquets to essential oil to honey – plus olive oil soaps, moisturizers, accessories, and gourmet treats, too. Her vendor booth at my Garden Symposiums was a fragrant delight to all!